research proposal No1
Excellence
I am proposing an "augmentation" of the Sustainable Digitalisation research ambition -
from
- "researching and redesigning the business models toward sustainability" toward
- " 'researching and redesigning the business models toward sustainability' through a citizen-science practice".
I additionally explain the research background and the supporting tools for the "R&D of the crowdsourcing ecosystem - a playground enabling this practice" and benefits from this approach.
This research extends the transition design (TD) and participatory design (PD) into the under-researched fields of the "crowdsourced TD" and "crowdsourced PD". It aims to scale-up PD and TD both timewise and in the number of users that mutually learn and share power across the design process (of sustainable business models) (Simonsen & Robertson, 2012). It is accordingly a process of action research in digital disruption of PD and TD. It goes along the supervisor's arguing in favor of not only including users in the design of new technologies, but also in the design of methods (Machniak, M. & Van der Velden, 2015).
Crowdsourcing this process to stakeholders, and designing the change by connecting business and society (enabling the business to adopt social values and society to adopt business skills), might be as well the only way. Namely, even though organizations can make significant progress towards achieving sustainability through their own internal capabilities, ultimately organizations can only be sustainable when the whole system of which they are a part is sustainable (Jennings & Zandbergen, 1995).
I propose the creation of gamified and educative co-design playground DesignSustainability! where the aspects of local businesses (their business models, new product lines, and infrastructures) are evaluated regarding sustainability aspects and possibly co-innovated, co-redesigned toward sustainability. This open-innovation / crowdsourced approach empowers stakeholders and citizen science/design community to co-evaluate, co-research, and co-design business models toward sustainability, together with researchers, designers, business practitioners. Further, if a company wants its model/product to be perceived by the community as sustainable, then asking the crowd's opinion on the submitted model/product makes much sense.
The compelling aspect of this proposal is that it is pluggable into a bigger context of the Sustainable Digitalisation research project, and scalable by implementing it only on the minimal level of co-evaluation up to co-design.
Concept
By applying this concept, companies get a crowdsourced (mostly free) evaluation of their business models, they bring their customers earlier in the co-creation process and detect flaws in (the sustainability of) their business models. They become publicly, community-certified, with a possibility of community-driven design, and they get a higher adoption through building user traction. We support the shift from pressuring companies for the performance of their CSR[1] to negotiating it (Porter & Kramer, 2006; 2019). The proposed process goes along the research "Companies spent the 20th century managing efficiencies. They must spend the 21st century managing experiences." (Prahalad & Ramaswamy, 2002).
This approach follows all three elements of Transition Design framework / New ways of designing: (i) Network & Alliance Building; (ii) Transdisciplinary & Co-Design Processes; (iii) Design that amplifies grassroots efforts (Irwin, 2015, August)
Impact
To deliver sustained impact, we pay special care of Microeconomic of the DesignSustainability! Thus we would rely on our previous research of intrinsic (collective) motivation, as explained in the lower 'Research' section. Nevertheless, additional extrinsic motivational principles would be examined including mechanism of social bonds. An independent line of my (our) research on the topic of Blockchain for Sustainability, can be discussed and applied on its own, yet I would address here only support of blockchain mechanisms for tracking non-sustainable footprint, but also for tracking and monetizing co-design and sustainability efforts (Adams et al., 2018)
DesignSustainability! relies on our previous research and action (R&A) in the field of role-playing - where DesignSustainability! participants would play roles, by choosing (i) one or more of 17 SDGs; (ii) one or more of 9 Planetary Boundaries; (iii) Four Pillars of Sustainable Development (Cultural, Social, Environmental, Economical) (Fien, 2004; and others), through which they would probe/re-design system. They would also be educated for the selected roles, through experiential learning, or Problem/Challenge Based Learning.
Participants are also trained in creative thinking, multidisciplinary collaboration, sustainable project development, computer-supported- and collective problem-solving. They are trained for holistic, sustainable view on the area. Systemic thinking of participants will be further enforced by computer-based-cross-checking their ideas with identified interactions among SDGs, synergy, and trade-off between SDGs (Pradhan et al., 2017).
The companies also become better equipped to sense and evaluate disruptive innovation trends, identifying their blind spots and competitive weaknesses that can be taken advantage of, to have a pulse on disruptive
technologies that might redefine the innovation trajectory - and inform decisions making between prioritizing sustaining innovations and disruptive innovations, in accordance with Disruptive Innovation Theory. (Christensen et al., 2015).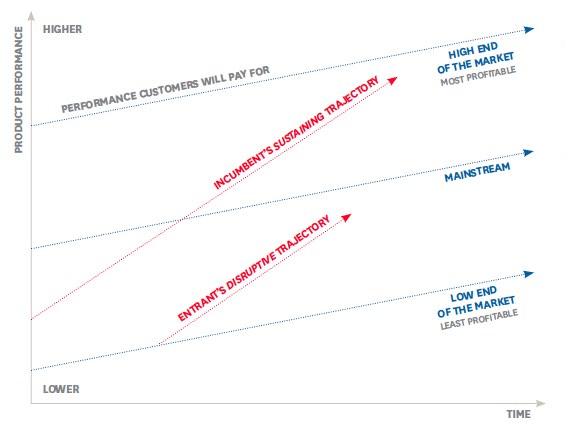 Illustration: Disruptive Innovation Model - sustaining and disruptive trajectories (Christensen et al., 2015)
Further research should go along synthesizing the knowledge from the strategic management literature, IS literature on digitization, dynamics of digital ecosystems and their integration into disruptive innovations in order to build on disruptive innovation theory following (Karimi & Walter, 2015) indications.
Among implicit benefits are the following: raising sustainability awareness, collaboration instead of competition mindset, an embodiment of the SDG goals, and dialogue over them. "Far from being a nagging exception to the rule of evolution, cooperation has been one of its primary architects" (Nowak, 2012).
This process brings the ongoing conversation and activities for achieving the 2030 Agenda out of the policy sphere and into public discourse.
Implementation
The DesignSustainability! is built upon our previous R&A, integrated and evaluated through Play Sustainability! serious edu-game, that brought us (ReMaking Tesla) honoring title of a Cross-Cultural Ambassador of UNESCO Club at Sorbonne University. It is partially drafted at our technical presentation at IEEE GHTC conference.
The proposal would be supported by the ChaOS Colabo.Space ecosystem for collective creativity / co-creation, and its integration with the open innovation ecosystem developed by our partner Induct AS (Norway). Colabo.Space is an open source IT ecosystem, offering methodologies and technologies for this and the future related work, that will keep being expanded and improved by my R&D team. The success of any collective process depends heavily on structural dialogue - I have documented our models and IT-augmentations in the attached 'Use Cases' document.
We will use the United Nations Statistics Division SDG API (the API enabling us to explore the official SDG data reported by the custodian agencies) https://unstats.un.org/SDGAPI/swagger/ as well as SDG Targets, and SDG Indicators[2] to support the evaluation process. We will integrate the UNESCO open-data ICH and its interconnectedness with environment, related to biomes and natural resources: https://ich.unesco.org/en/dive&display=biome#tabs, to enforce the link between all four pillars of Sust. Dev.
My development goes along the Mobile-first approach and would capitalize on Progressive Web Applications (PWA)[3], used to make regular web applications act like native apps on Android, Windows, Chrome OS and more.
The technological know-how, UI design, and more from my IT-background can be assessed through my open source contributions to the code at https://github.com/Cha-OS/colabo.
Research and Action Background
The proposal would build on several methodologies and approaches practiced by my team and me and would advance research by crossing several research gaps. It addresses the problem of scaling practices of co-design (PD and TD), both through time and participants number as well as asynchronicity of their interactions and their motivation.
To achieve above-stated objectives and impacts, we would integrate the following research fields based on my research interests and existing action: Collaborative business modeling, Transition Design, Participatory Design, Research through Design, Computer-supported Collaborative Learning (CSCL), Social constructivist turn in the developmental and educational field, etc. Additional methodologies and technologies from my (our) portfolio that would be integrated include Problem-Based Learning (PBL) (Barrows, 1986), Natural Language Processing, Machine learning, Lateral thinking, and others. The educational aspect, as most of my (our) CSCL R&D is to be driven by and evaluated against five dimensions of the typology of 'effective interventions that support e-learning' - namely: Accessibility, Contextualisation, Professional learning, Communities, Learning design (Sharpe, 2004).
Some of these incentives are being addressed by the 'Scalable Collective Mind' consortium, assembled by ChaOS and FWC[4], as well as through research on scaling up SDD[5] in partnership with FWC (Laouris & Christakis, 2007).
The DesignSustainability! project would go through EvoLuation (Evaluation for Evolution) Action Research spiral supported by our Colabo.ReM evaluative research method - a novel unobtrusive evaluation of social processes (explained in more details in the research proposal 2). Other relevant methodologies and evaluations (SUS, CSI, etc.) are mentioned in the 'Research Methodologies' chapter of my 'Cover Letter + Research Interests'.
Development of Co-design and collaborative habits will be addressed by my research performed through the development of the education meta-framework CoEvoludens[6], augmented with Colabo.ReM and in such way would provide an organic educational path and support PBL.
A substantial part of my research is driven by tackling complex social issues and community development through complementary rational and emotional (even non-verbal) dialogue (developing left and right halves of the 'Collective Mind'). We identify that а solid structure and guided behavior for these aspects of dialogue to coexist are missing. We treat it with the action research under ColaboArthon[7] incentive (in more details explained in the attached 'Use Cases' document).
Throughout the user onboarding and scaffolding phases, we would level-up the competence and expertise of participants (following SDT) and their understanding of more complex business models. I see the potential of Systems-Based SBM (Sustainability Business Model) (Stubbs & Cocklin, 2008) to widen participants' insights in this phase, according to some of its propositions: (i) an SBM Draws on Economic, Environmental and Social Aspects of Sustainability in Defining an Organization's Purpose; (ii) an SBM Considers the Needs of all Stakeholders Rather Than Giving Priority to Shareholders' Expectations; (iii) An SBM Encompasses the Systems Perspective As Well As the Firm-Level Perspective.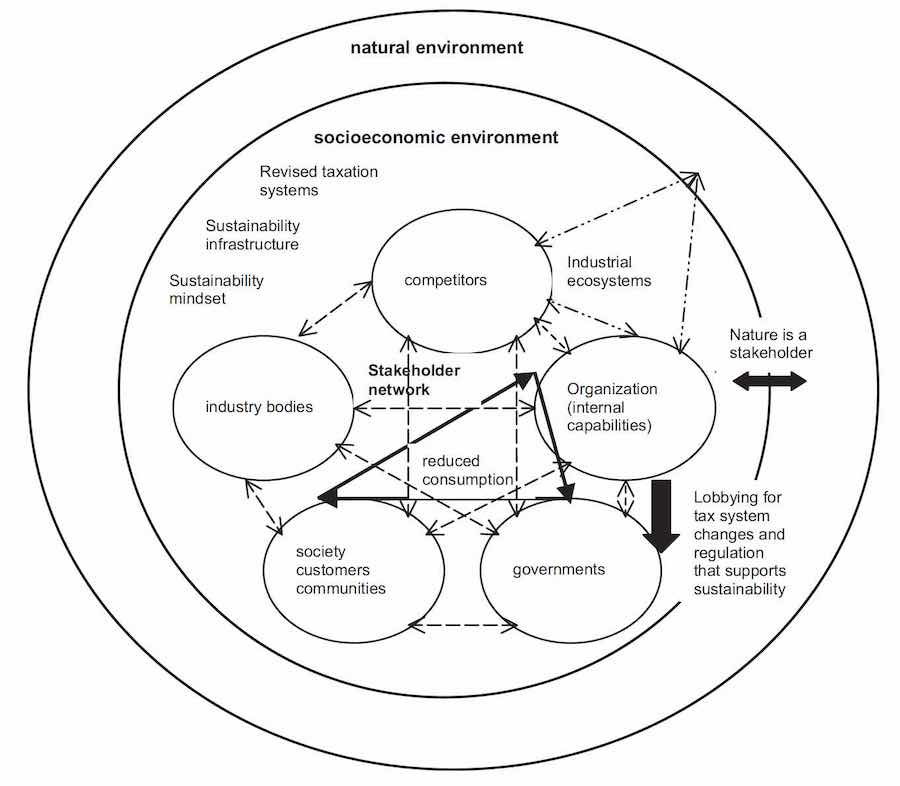 An Illustration of a Systems-Based SBM (Stubbs & Cocklin, 2008)
Addressing the challenges toward sustained Participation and Teams Creativity/Performances
Most citizen science (co-design, co-create) platforms suffer from a die-out effect; i.e., it is difficult to keep participants motivated and active in the longer run. This can be improved by a combination of different actions: (i) Ensure interest in the research topic, (ii) Build mechanisms to ensure that they share the same goals and values as the project (Nov, O. et al., 2011, February), (iii) Recognition of contribution and feedback on contribution (Rotman, D et al., 2012, February). We address these challenges not only through Gamification but by developing Intrinsic motivation through increasing Autonomy, Relatedness, and Competence, following the Self-determination Theory (SDT) (Ryan & Deci, 2000). The mechanisms for identification of contributions, engagement, and behavioral patterns will be used. Additionally, in our development of participants' RIMA[8] profiles and role-playing methodologies, we don't observe only participants' interests, but also their behaviors and we take in count personality types, relying on Myers–Briggs Personality Types and Big Five personality traits, (Judge & Ilies, 2002; McCrae & Costa, 1989).
The outcomes produced by a co-design team seem to be linked to the team diversity – process facilitation relationship. Co-design teams that characterize minimum separation, maximum variety, and moderate disparity are likely to produce the most promising results (Trischler et al., 2018). We have accordingly focused action research on mechanisms for group formations, clustering and mutual matching, as well as Collective Motivation to which I contribute by proposing CEI (Collective Emotional Intelligence) as a missing part for the Doug Engelbart's Unfinished Revolution and a concept helping in Augmenting collective intelligences (CIs) (Engelbart & Ruilifson, 1999).
Research on Collective intelligence and group performance is of particular interest for any co-design. In my work I propose the plural "collective intelligenceS" (CIs), emphasizing the importance of aspects that have been neglected in the research of collective intelligence. I am interested in researching CIs following the work of (Woolley et al., 2010), (Woolley et al., 2015), and would experiment with socio-technical interventions for assessing and fostering CI and specific types of CIs (Gardner, 1992). With this objective, we want to expand the research regarding the aspects that influence the CI, that constitute CIs, with a focus on emotional and subconscious aspects as prerequisites for the full emergence of the CI. We would explore CIs correlation with different classes of group tasks and motivation.
References
Adams, R., Kewell, B., & Parry, G. (2018). Blockchain for good? digital ledger technology and sustainable development goals. In Handbook of sustainability and social science research (pp. 127-140). Springer, Cham.
Christensen, C. M., Raynor, M. E., & McDonald, R. (2015). What is disruptive innovation. Harvard Business Review, 93(12), 44-53.
Barrows, H. S. (1986). A taxonomy of problem‐based learning methods. Medical education, 20(6), 481-486.
Engelbart, D., & Ruilifson, J. (1999). Bootstrapping our collective intelligence. ACM Computing Surveys (CSUR), 31(4es), 38.
Fien, J. (2004). 11 Education for sustainability. Studying society and environment: A guide for teachers, 184.
Iandoli, L., Klein, M., & Zollo, G. (2007). Can we exploit collective intelligence for collaborative deliberation? The case of the climate change collaboratorium.
Irwin, T., Tonkinwise, C., & Kossoff, G. (2015, August). Transition design: An educational framework for advancing the study and design of sustainable transitions. In 6th International Sustainability Transitions Conference, University of Sussex, Brighton.
Jennings, P. D., & Zandbergen, P. A. (1995). Ecologically sustainable organizations: An institutional approach. Academy of management review, 20(4), 1015-1052.
Judge, T. A., & Ilies, R. (2002). Relationship of personality to performance motivation: A meta-analytic review. Journal of applied psychology, 87(4), 797.
Karimi, J., & Walter, Z. (2015). The role of dynamic capabilities in responding to digital disruption: A factor-based study of the newspaper industry. Journal of Management Information Systems, 32(1), 39-81.
Laouris, Y., & Christakis, A. N. (2007). Harnessing collective wisdom at a fraction of the time using Structured Dialogic Design Process in a virtual communication context. International Journal of Applied Systemic Studies, 1(2), 131-153.
Machniak Sommervold, M., & van der Velden, M. (2015). TRANSITION CARDS: DESIGNING A METHOD WITH AND FOR YOUNG PATIENTS. IADIS International Journal on Computer Science & Information Systems, 10(2).
Malone, T. W., & Klein, M. (2007). Harnessing collective intelligence to address global climate change. Innovations: Technology, Governance, Globalization, 2(3), 15-26.
McCrae, R. R., & Costa Jr, P. T. (1989). Reinterpreting the Myers‐Briggs type indicator from the perspective of the five‐factor model of personality. Journal of personality, 57(1), 17-40.
Nov, O., Arazy, O., & Anderson, D. (2011, February). Dusting for science: motivation and participation of digital citizen science volunteers. In Proceedings of the 2011 iConference (pp. 68-74). ACM
Nowak, M. A. (2012). Why we help. Scientific american, 307(1), 34-39.
Payne, A. F., Storbacka, K., & Frow, P. (2008). Managing the co-creation of value. Journal of the academy of marketing science, 36(1), 83-96.
Porter, M. E., & Kramer, M. R. (2006). The link between competitive advantage and corporate social responsibility. Harvard business review, 84(12), 78-92.
Porter, M. E., & Kramer, M. R. (2019). Creating shared value. In Managing sustainable business (pp. 323-346). Springer, Dordrecht.
Pradhan, P., Costa, L., Rybski, D., Lucht, W., & Kropp, J. P. (2017). A systematic study of Sustainable Development Goal (SDG) interactions. Earth's Future, 5(11), 1169-1179.
Prahalad, C. K., & Ramaswamy, V. (2002). The co-creation connection. Strategy and Business, 50-61.
Rotman, D., Preece, J., Hammock, J., Procita, K., Hansen, D., Parr, C., ... & Jacobs, D. (2012, February). Dynamic changes in motivation in collaborative citizen-science projects. In Proceedings of the ACM 2012 conference on computer supported cooperative work (pp. 217-226). ACM.
Sinisa Rudan, Sasha Rudan, Tamara Nikolic Maksic , "Colaboarthon - Inclusive Play - Developing Collective Awareness And Empathy (from Brainstorming To Art)", PPLG18, Thessaloniki
Ryan, R. M., & Deci, E. L. (2000). Self-determination theory and the facilitation of intrinsic motivation, social development, and well-being. American psychologist, 55(1), 68.
Sanders, E. B. N., & Stappers, P. J. (2008). Co-creation and the new landscapes of design. Co-design, 4(1), 5-18.
Shapira, H., Ketchie, A., & Nehe, M. (2017). The integration of design thinking and strategic sustainable development. Journal of Cleaner Production, 140, 277-287.
Sharpe, R. (2004). A typology of effective interventions that support e-learning practice. Bristol: JISC.
Simonsen, J., & Robertson, T. (Eds.). (2012). Routledge international handbook of participatory design. Routledge.
Stahl, G., Koschmann, T. D., & Suthers, D. D. (2006). Computer-supported collaborative learning. na.
Strengers, Y., & Maller, C. (Eds.). (2014). Social practices, intervention and sustainability: Beyond behaviour change. Routledge.
Stubbs, W., & Cocklin, C. (2008). Conceptualizing a "sustainability business model". Organization & environment, 21(2), 103-127.
Trischler, J., Kristensson, P., & Scott, D. (2018). Team diversity and its management in a co-design team. Journal of Service Management, 29(1), 120-145.
Vidal, R. V. V. (2006). The Future workshop: democratic problem solving. Economic analysis working papers, 5(4), 21.
Walker, S., & Giard, J. (Eds.). (2013). The handbook of design for sustainability. A&C Black.
Woolley, A. W., Chabris, C. F., Pentland, A., Hashmi, N., & Malone, T. W. (2010). Evidence for a collective intelligence factor in the performance of human groups. science, 330(6004), 686-688.
Woolley, A. W., Aggarwal, I., & Malone, T. W. (2015). Collective intelligence and group performance. Current Directions in Psychological Science, 24(6), 420-424.
---