Introduction
Sustainable Development is the constitutional element of the ChaOS mission.
ChaOS does not only educate on sustainable development itself - we recognized the 4 pillars of sustainable development (social, cultural, economical, and environmental) as matching our own holistic, balanced approach to change, to our actions, and education. The same goes for the Remaking Tesla - the International Forum of interactive and IT-Augmented Education, that ChaOS co-founded.
We evangelize the SDGs (Sustainable Development Goals) as an
inter-cultural alphabet of the activism, (sustainable) development, and change for social good.
Thus, we identify SDGs as a starting point for mapping and clustering the social, environmental, and other issues/challenges, and often as a starting point of a dialogue. We integrate SDGs into our activities of inspiring people for collective activism.
ChaOS and ReMaking Tesla teams went even further - we developed IT technology and methodology, and gamification tools, based on sust. dev and SDGs, that have been used on several workshops and trainings, on topics of sustainable collective activism, socially engaged art, our approach to goals-driven intrinsic civil courage, coaching with compassion, collective performance, entrepreneurship, etc, held in Europe and USA.
Sust. dev and SDGs were in the focus of our activities throughout the last few years and a pivotal point of the ReMaking Tesla on Tour 2018.
Our work on Sustainable Development was acknowledged by honoring "ReMaking Tesla" as a Cross-Cultural Ambassador of UNESCO Club at Sorbonne University.
In the text below we list both projects/products and activities that ChaOS and Remaking Tesla teams developed and executed in this field
---
IMPORTANT DON'T MOVE THIS - IT'S placeholder FOR A TOC
Research
Our research was accepted to be presented at the infamous IEEE GHTC (Global Humanitarian Technology Conference). That part of our work focused on the Social Pillar (more precisely SDG 1 No Poverty, SDG 2 Zero Hunger, SDG 4, SDG 10 etc, with a socio-technical solutions empowering SDG 17 Partnership for the Goals)
The 9th IEEE GHTC 2019 is an international flagship conference sharing practical technology enabled solutions addressing the needs of underserved populations and resource constrained environments around the world and the United Nations Sustainable Development Goals (UNSDG).


Work of our team that demonstrates our SDGs usage in Socially Engaged Art+Science is also accepted at the ELO2019 International Conference, Ireland (organized by ELO)
Our team also monitors, performs statistical analysis, and researches how SDG Awareness influences social activism processes at workshops, by using Machine Learning and NLP, etc.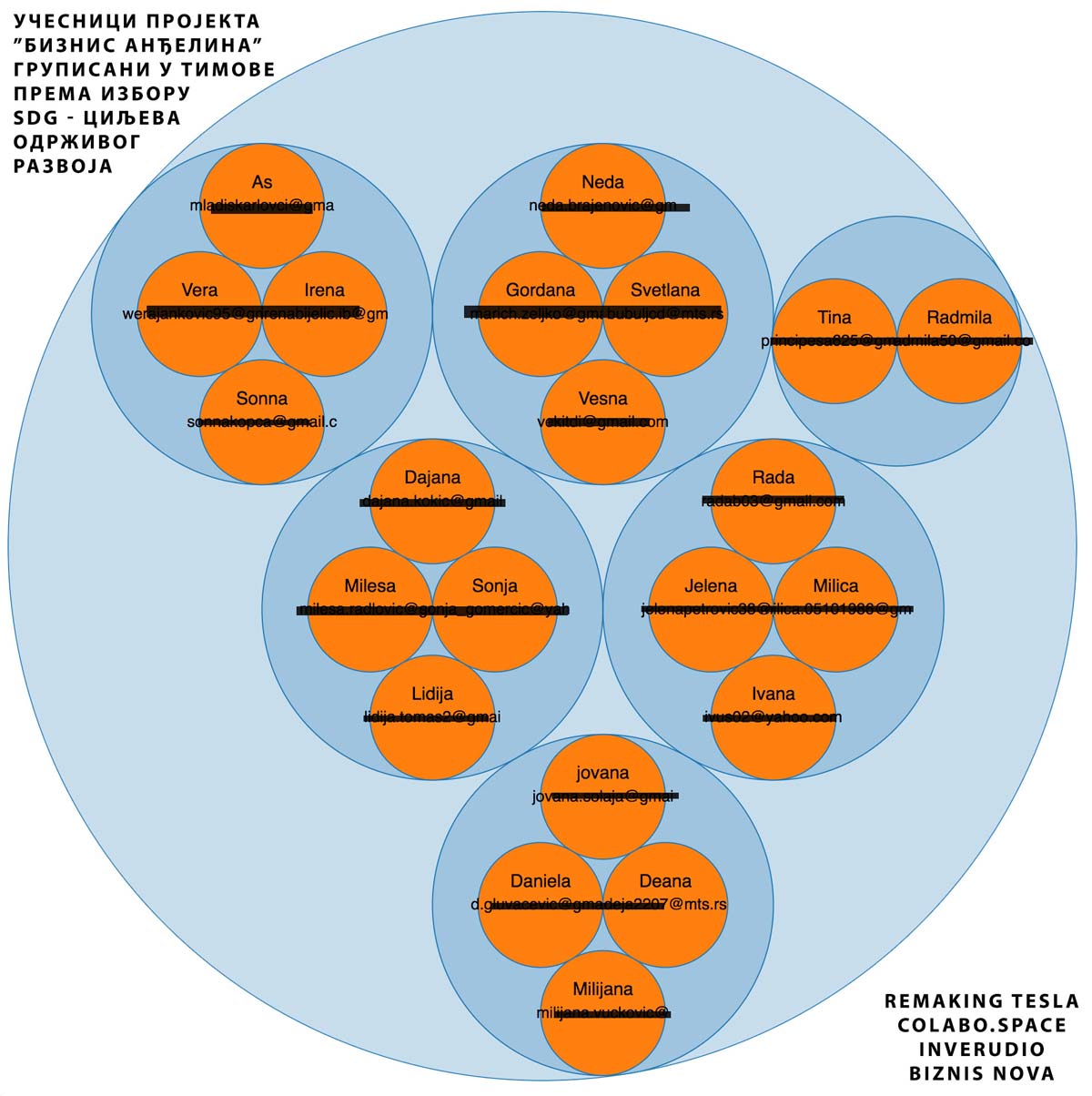 ---
Projects / Products
Play Sustainability!
Edu-game - Workshop
Play Sustainability, among other efforts in the field of Sustainable Development was acknowledged by honoring "ReMaking Tesla" as a Cross-Cultural Ambassador of UNESCO Club at Sorbonne University.
Notable executions at: Tesla Eco Forum 2017, Forum Vlasina 2018.
Participants are learning of and experiencing UN Sustainable Development Goals through solving real-word problems. They are experiencing multidisciplinary work from the perspective of taking one of 4 roles of 4 Sustainable Dev pillars and trying not to make world unsustainable by their solutions. Players use playing cards, physical map, and technology, and go through experiential learning, or Problem/Challenge Based Learning
Participants are also experiencing collective + individual development, through raising awareness, embodiment of the goals, and dialogue. We apply methodologies like, discovery-driven learning, machine learning, self-determination theory, lateral thinking, etc
Participants are trained in creative thinking, multidisciplinary collaboration, sustainable project development, collective problem solving.
They are also trained in performance activism and (collaborative) socially engaged art to improve motivation raising, community building, crowdfunding for their work.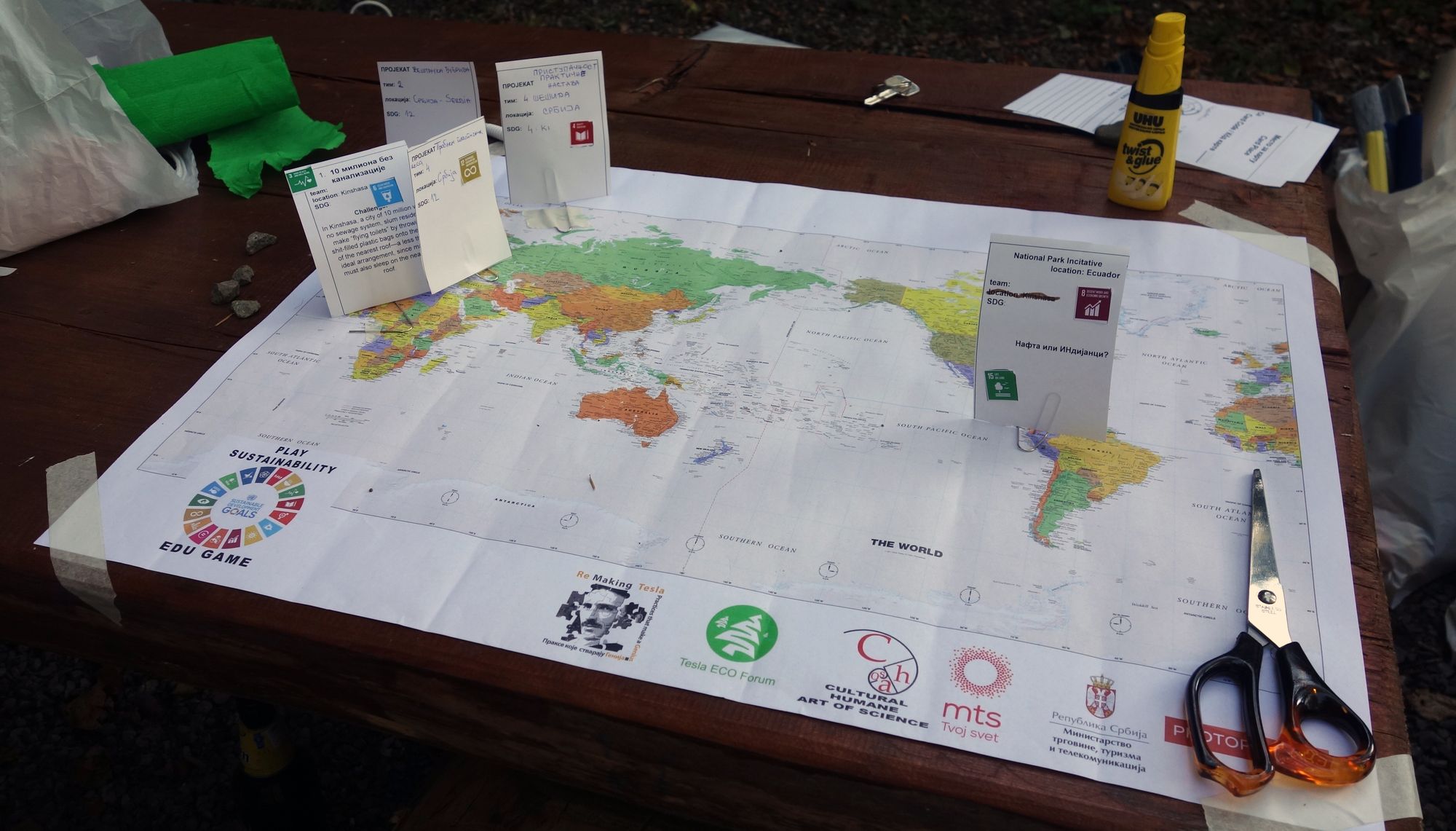 NCA - Networking for Collective Activism
NCA is a toolset enabling networking, ad-hoc groups creation, and clustering, driven by shared interests.
It is used as an educational method, a serendipity empowering tool, as a warm-up event at workshops, forums, conferences, and especially for development of collective activism, driven by SDGs (Sustainable Development Goals).
It is used as a simple **mobile application **supported by server-side socio-technical ecosystem, offering visualization of results and gamification of networking.
It helps us to learn about each other goals and to connect us through them. It enables participants to discover what are their inner goals related to the event, to embody them, to network intrinsically in a gamified way through shared goals, and to turn goals into collective actions with peers found through the process. NCA offers a first step on the journey from ideas and dialogue to immediate collective actions.
It is part of the ReMaking Tesla research on groups and communities formation, clustering, teams efficiency, and motivation for collective and multidisciplinary actions.
It is used at several eco+activism forums, including Forum Vlasina (500+ participants), Performing The World (New York, US), as a part of entrepreneurship and civil courage trainings.
It's unique by benefiting both from usage of the cutting-edge technology and ice-breaking and simple embodying performance techniques to connect both in a semantical and a warm opening way.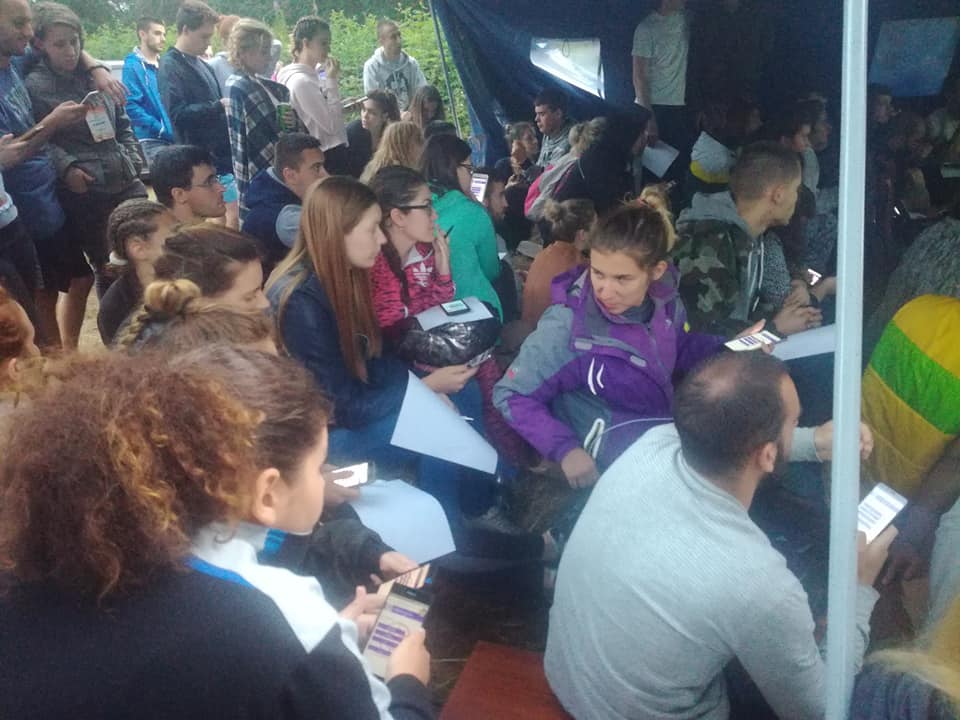 Performative Dialogue - from Goals to Action
(a Socio-Technical Toolset for Creation of Collective Performance through a Gamified Dialogue, also known as Performing Sustainable CoEvolution (PSC))
This is a toolset (a method supported by the Colabo-Space IT-ecosystem) that enables participants to explore their individual goals/dreams, to embody them and turn into collective vision and action. They create a performative dialogue out of their inherent goals and dreams. It is used to train participants in an ad-hoc creation of an engaged collective performances (a form of a Participatory Socially Engaged Art/Practice)
Participants start with researching the knowledge domain and topics of interest, go through coached individual dreaming, to collective playing/performing and IT-supported gamified dialogue (making the progress on the road of "problem+challenge → understanding+knowledge → performance+reaching society")
By identify the SDGs (Sustainable Development Goals) as a starting point for mapping and clustering the social, environmental, and other issues/challenges, we mostly base this toolset on SDGs - enabling participants to learn in a gamified way about sustainable development and about themselves and their goals in activism, all this through coaching toward vision of a desired future.
Methodology applied:
Our approach to Coaching with Compassion and Intentional Change Theory (enabling participants to explore their inner-goals and to connect them with possible actions, especially those they can start collectively with the peers at the event), our DialoGame toolset, supported by IT-science (usе of Machine Learning, Artificial Intelligence, and NLP (for texts-dreams analyses and matching), Vygotsky's "a head taller" approach, Grotowski's Poor Theatre approaches practiced by ReMaking Tesla co-founders Plavo Theatre.
Practiced
at several conferences and forums, including PerformingTheWorld (New York, US), Everyday Heroes ERASMUS+ training on Civil Courage, Dresden, Germany.
---
Trainings. Workshops. Conferences
Forum Vlasina
year 2017 and 2018
Youth Eco Camp at Vlasina Lake, Serbia
www.facebook.com/omladinskiforumvlasina
500+ International participants
ChaOS and ReMaking Tesla are partners in organization of the Forum Vlasina, with roles of providing 1) "innovative technological support" and 2) "innovation of educational methodology".
We have been providing our expertise and technology for education of youth, rising sustainable development awareness and motivating youth for sustainable collective activism.
Participants used our NCA mobile app, were trained through Play-sustainability edu-game, demonstrating sustainable approach to technology and environment. They started dialogue on possible joint activism in the field of social development and started developing and presenting the projects. Participants were trained on collective creativity and innovation and practiced it through CoLaboArthon. They were working on solving real world problems through the prism of SDGs.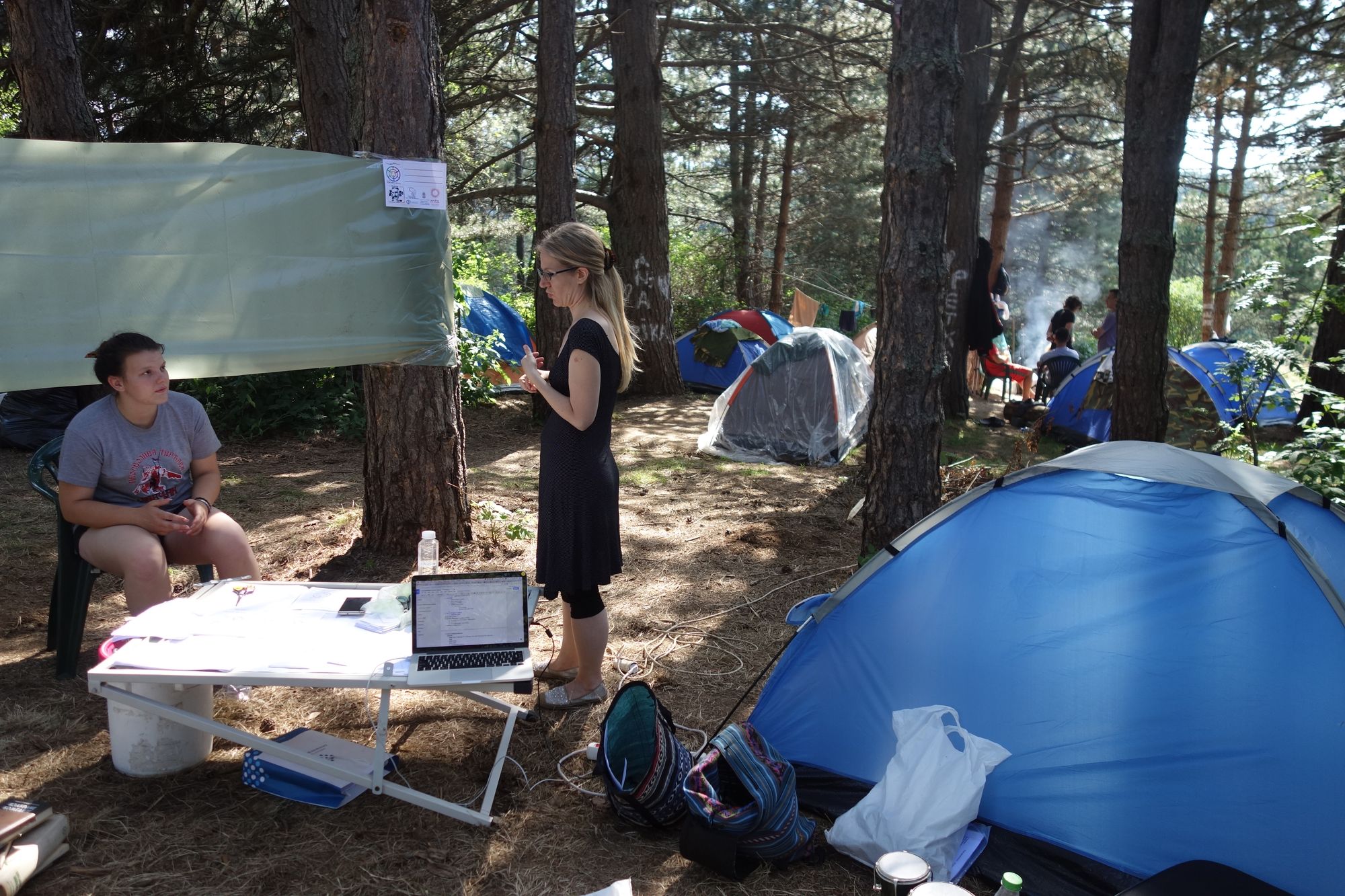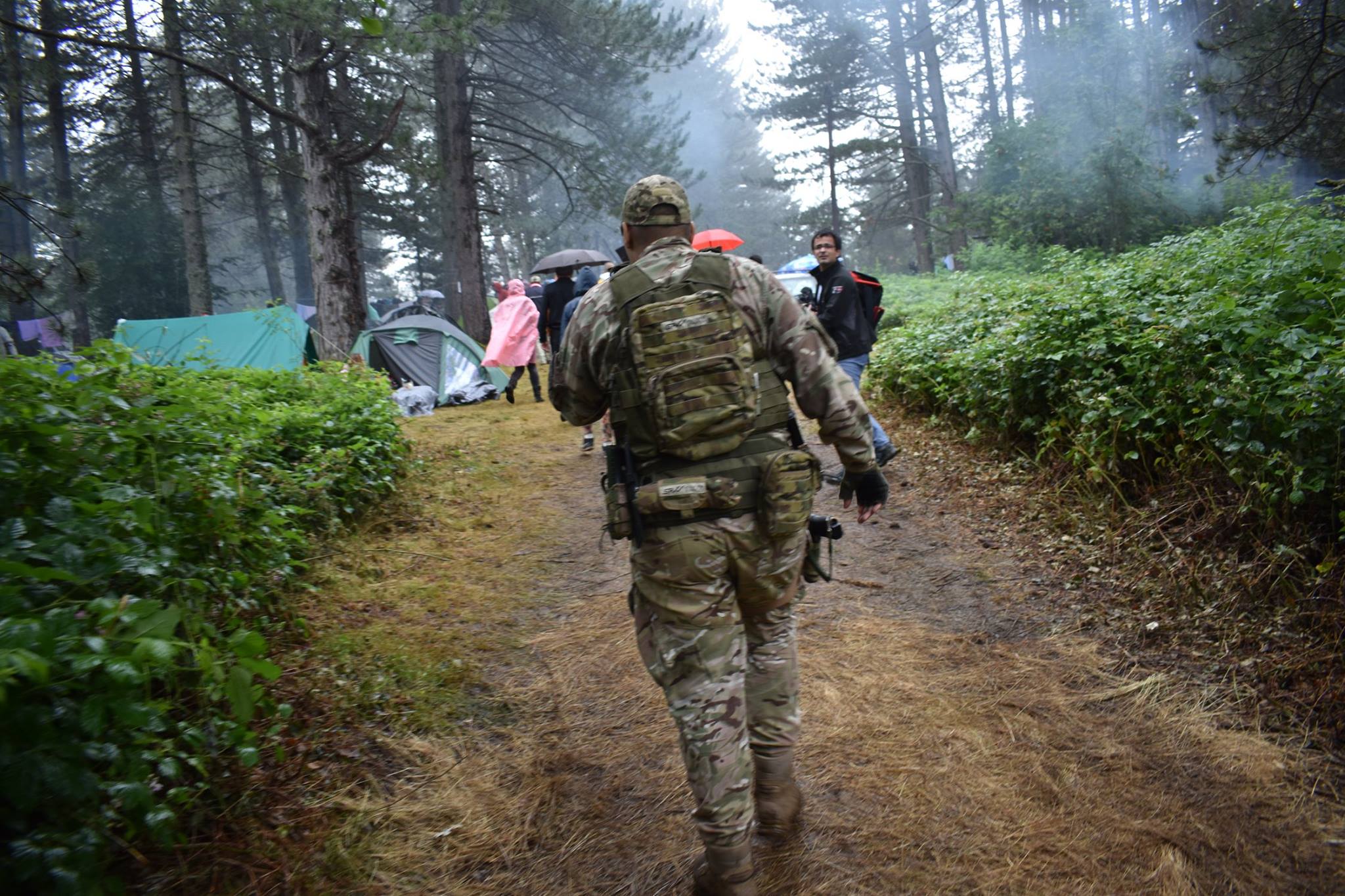 Sustainable Entrepreneurship
ChaOS/ReTesla efforts in the area of Sustainable Entrepreneurship spans through several years, including giving trainings and projects development at Futurizer Riga, Latvia, event in 2016. Our methodology of CoEvoLudens is both used for trainings and further developed.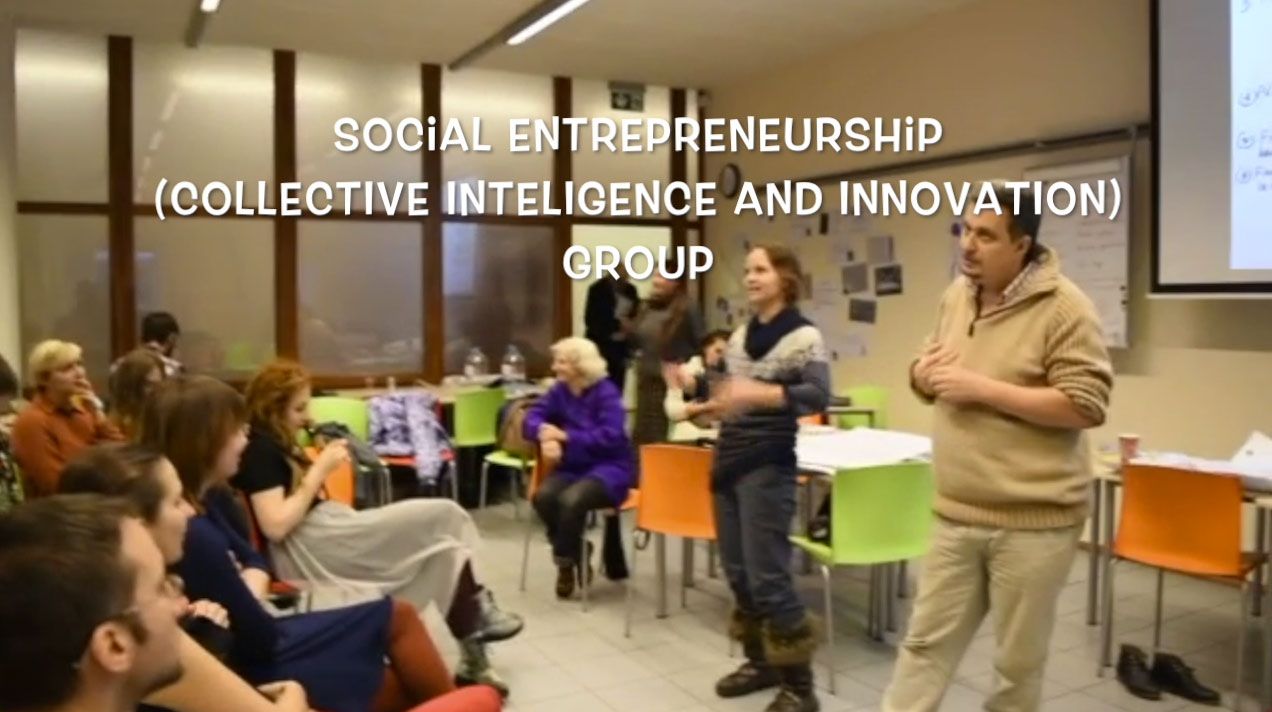 Activities continued through Forum Vlasina and Tesla Eko Forum.
Business Angelina
(Sustainable Development inspiring Business)
Sremski Karlovci Town Hall, 2018
http://andjelina.rs/oProjektu.html
Development and promotion of innovative female entrepreneurship in the local community
organized by www.biznisnova.com
During the 2-day guesting ChaOS/ReTesla team trained business women and those that wanted to become ones.
Collective Creativity, approaching challenges of their business in an Innovative and Creative way, Brainstorming - Nominal Group Techniques
Participants used using our mobile app NCA for (SFG) shared goal-driven networking on collective problem solving, have been trained in methodologies for collective problem solving creative approaches in marketing though Play-sustainability edu-game, and in DialoGame.
They were inspired and trained to develop/pivot their business ideas to include Sustainable Development (Goals) - for connecting their business with their inner vision and passion, for reaching crowdfunded and volunteering possibilities and international funds, and to provide social good.
They were also trained in their approach toward their business to make more focused, sustainable and stress-free, through Somatopsychological approach.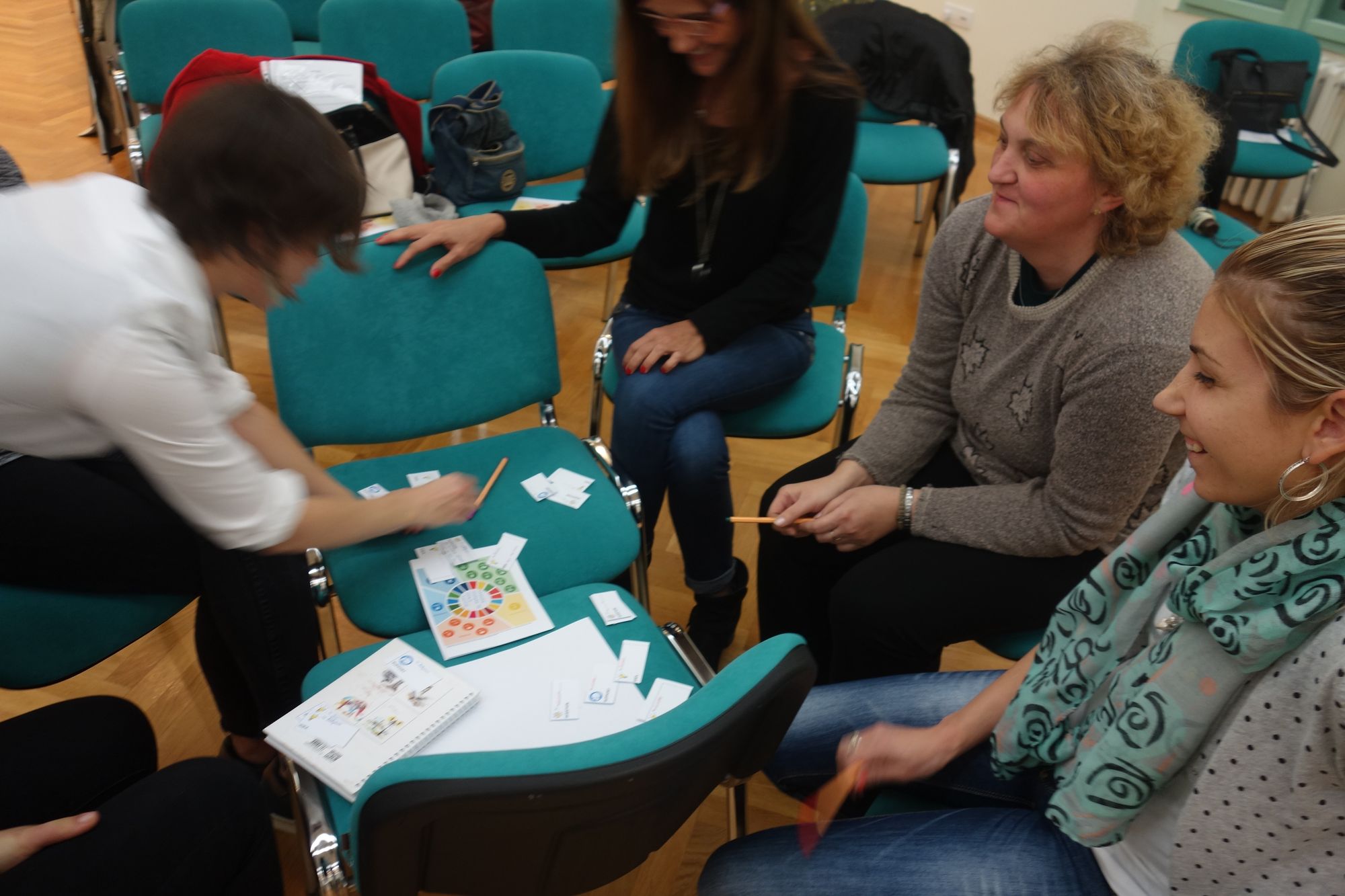 Tesla Eco Forum
Mountain Goch, Serbia
Septembar 2017, August, 2018
https://lewebpedagogique.com/clubunescosorbonne/2017/08/24/tesla-eco-forum-2017/
ReMaking Tesla Team was bringing awareness to SDGs and sustainable development based on Four Pillars: Economy, Society, Culture and Environment.
Participants were trained by practicing networking on SDGs by using NCA mobile app, have been trained through Play-sustainability edu-game.
Our team gave a presentation on Collective Creativity and Innovation.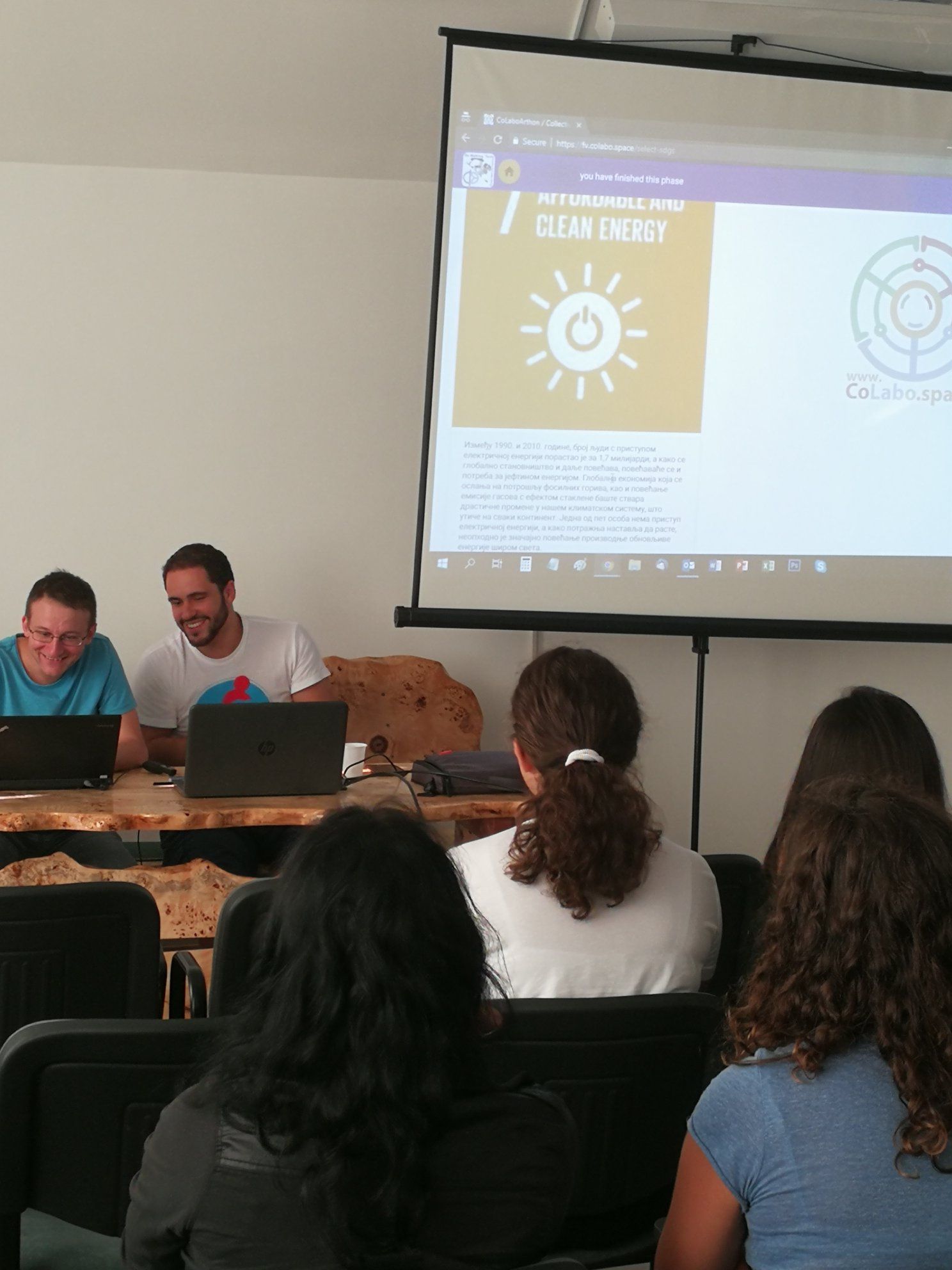 Performing the World - Let's Develop!
New York, USA, 2018
http://www.performingtheworld.org
At the influential conference gathering 300+ world-wide participants, our team was honored by acceptance of our workshop that addressed the "Let's Develop!" call.
We educate the participants on the principles of sustainable development (SDGs) and multidisciplinarity. Participants started with NCA networking around SDGs. Coaching with compassion connected the collectively generated sustainable development ideas with the dreams of individual participants. Through our gamification methodologies for collective creativity, the participants were inspired to think through roles of experts in the four pillars of sustainable development (Culture, Environment, Economy, and Society). Through these proceses they created materials for the the final collective performance - an emotional call for action.
The process was augmented by PlaySound and AudioCommons initiatives by QMUL, UK, connecting through Colabo.Space, the performers at the workshop with composers around the world.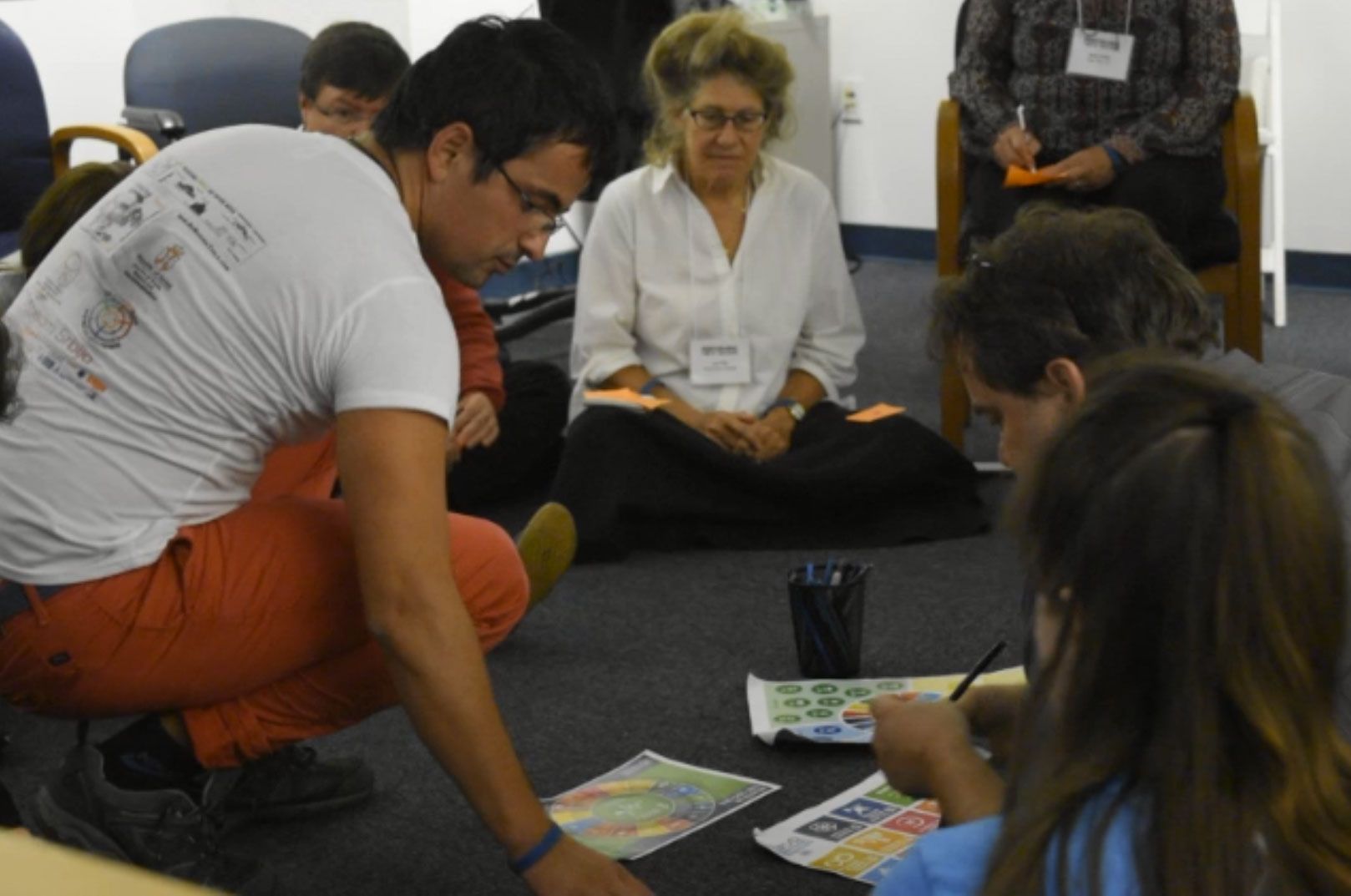 Socially Engaged Writers/Artists
a dialogue of awarded international writers and communities over humane and touching topics inspired among others, by Sustainable Development Goals (created by United Nations Dev. Programme).
In partnership with Association of Writers of Serbia (UKS) and the CoLaboArthon Consortium.
Eco-Performance & Visualization
Tesla Eco Forum, Goch Mountain
Participants were developing visualization (a skill that enabled Nikola Tesla many of his breakthroughs) through visualization of processes in nature, trees. The process was guided to an eco-performance introduced by eco-poem, embodying frustration of being wrapped in plastic bags and continued with conscious and unconscious participation of the group.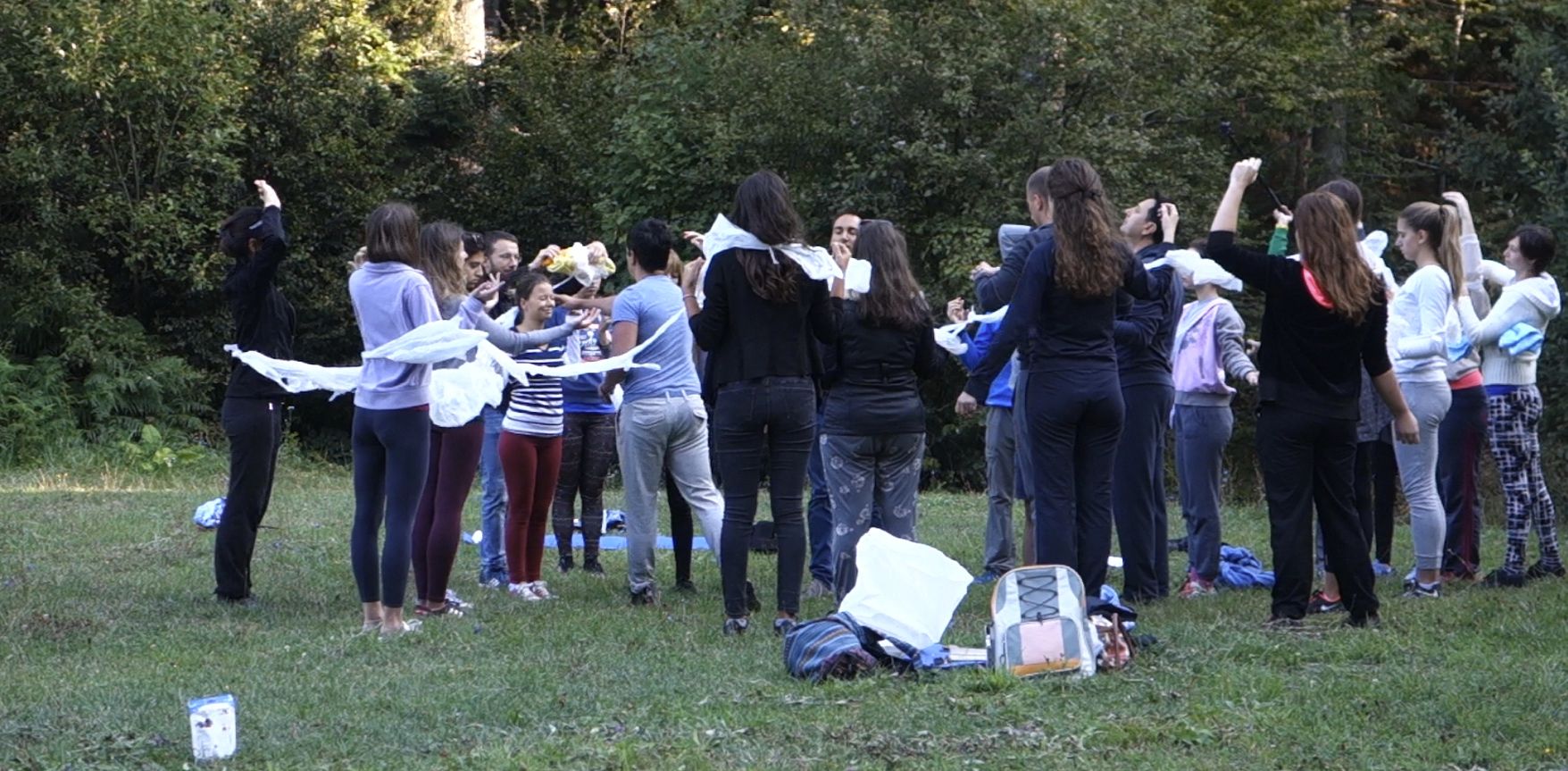 Everyday Heroes
Dresden, Germany
ERASMUS+ project
https://www.jkpev.de/en/portfolio_page/everyday-heroes-2018
Civil courage training
ChaOS/ReMaking executed these trainings as a partner of www.jkpev.de for participants from Albania, the Czech Republic, Cyprus, Denmark, the former Yugoslav Republic of Macedonia, France, Germany, Greece, Hungary, Poland, Serbia, Slovakia, Spain, and the United Kingdom.
We organized these trainings according to our approach to intrinsic goals-driven civil courage, and according to our approach to sustainable collective activism, socially engaged art, all based on SDGs.
We empowered it with NCA, Performative Dialogue - from Goals to Action, ICT, coaching with compassion, collective performance,
and gamification tools.
we will relied on Vygotsky's "a head taller" approach, but also on Grotowski's Poor Theatre approaches practiced by ReMaking Tesla co-founders Plavo Theatre.
We focused on social pillar of sustainable development - and the training was accompanied with the exhibition of Poetry on the Road project - International poetic Collaboration on Refugees and Migrants.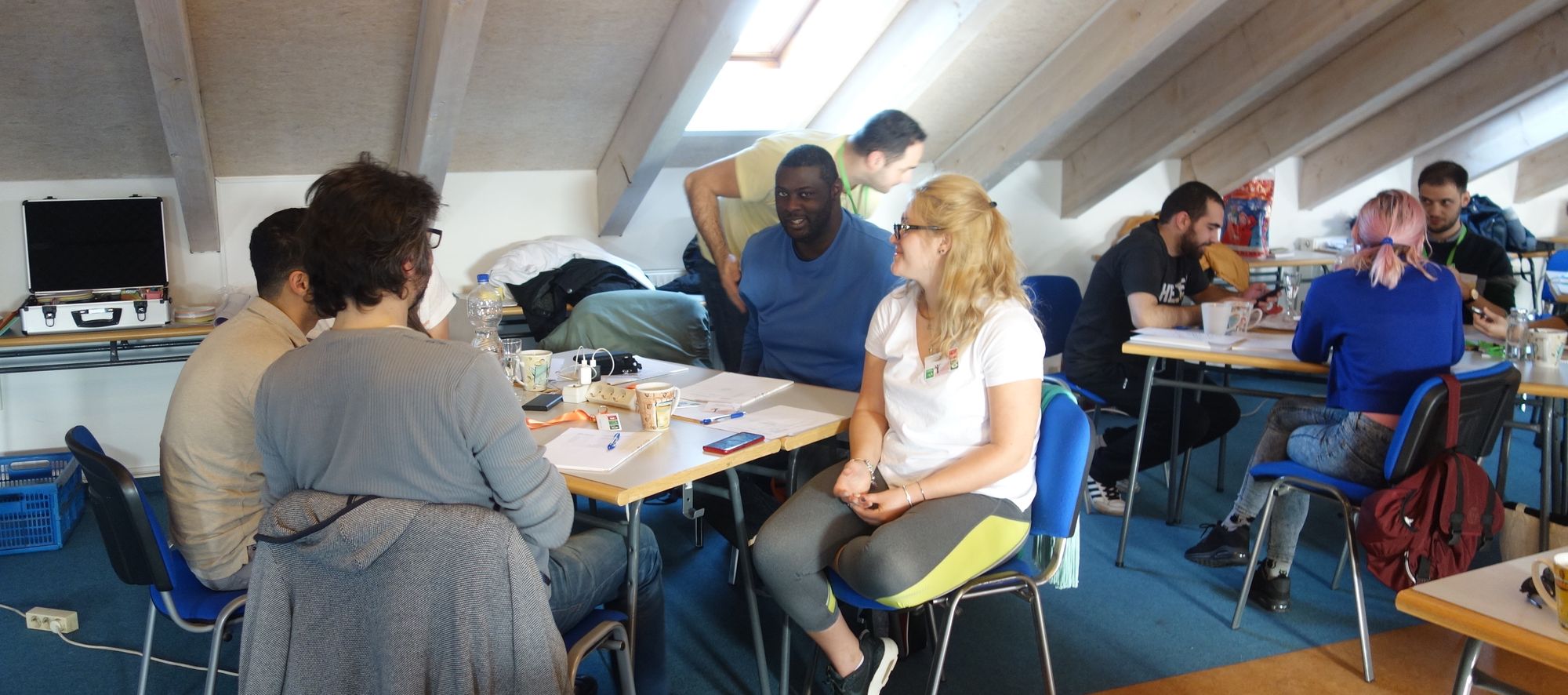 Eco Meeting
https://www.energetskiportal.rs/dogadjaji/eko-susret-na-vlasinskom-jezeru
Vlasina Lake, Serbia
September, 2018
a presentation and networking on ecological topics, including circular economy.
Technology for Social Good - Initiative
(Socially Engaged Technology)
a set of panels and a hackathon being developed by ReMaking Tesla / ChaOS and partners
(open call for contribution and partnering)
IMPORTANT DON'T MOVE THIS - IT'S FOR A GALLERY LIGHTBOX
IMPORTANT DON'T MOVE THIS - IT'S FOR A DATE
IMPORTANT DON'T MOVE THIS - IT'S FOR TOC