Mediapolygon attracts journalists, photographers, and videographers in one spot, a kind of a singularity, in one Russian town - this time it was Tyumen.
However, this time their news haven't stay in Russia only. Some of them were spread around the world and artists from 13 countries and 4 continents reacted on touching news from Tyumen and they started sending their emotions, in the form of poems, songs, paintings, compositions, back to those people in Siberia, back to the source of journalistic reports. In the rest of this text, we're sharing with you both those news and excerpts from international artistic reflections.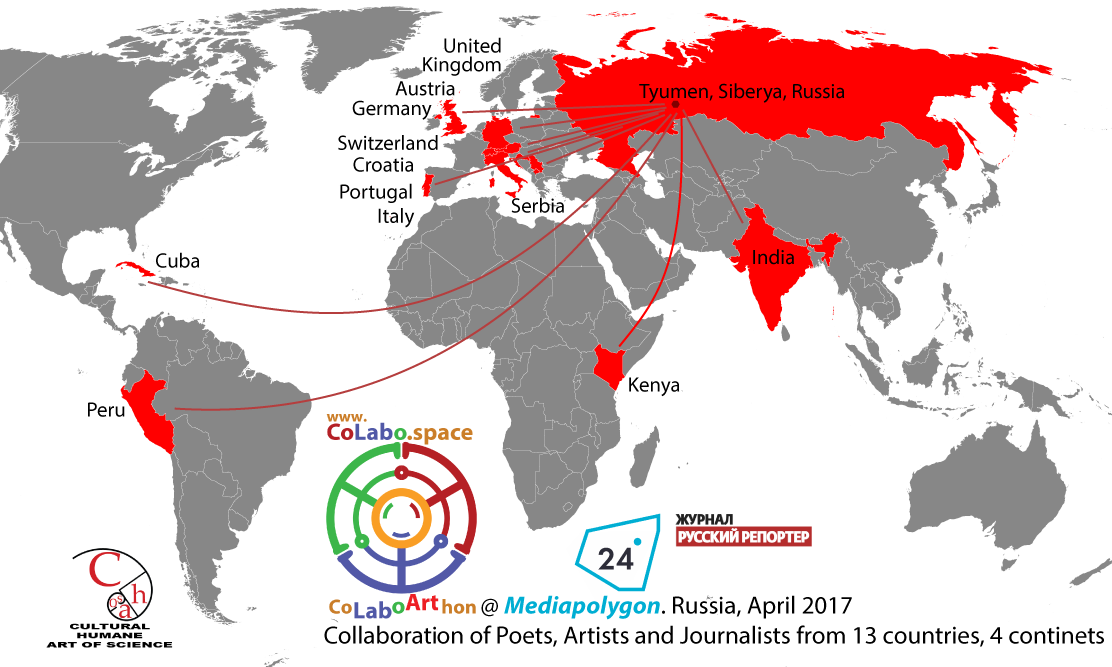 Mediapolygon got in touch with ChaOS (www.cha-os.org) and with the help of Metaversity and Protopia, they jointly organized CoLaboArthon - a fusion between journalists and artists, between Russia and the rest of the world. The reason of this fusion is not just an experiment - it is an exploration of Systemic Innovation of journalism through its holistic positioning and defragmentation + collaboration of cultural and research areas.
CoLaboArthon is a crowdsourced ecosystem for a rapid, multidisciplinary creation of facts, ideas and emotions. Its outcome is a collective piece of art+research. Its goal is increasing of communication across disciplines, senses and places. CoLaboArthon helps journalism to translate facts into emotions, to tell additional dimensions of truth - it moves society, it helps in calling for action, for change. In that sense, CoLaboArthon is an answer for a missing part of social thrivability cycle. In the ideal case, CoLaboArthon is a dialogue/flow between facts (science/research/journalism) and society, but it is also an intercultural exchange and travel, a chance for deep connection through collaboration.
CoLaboArthon relies on socio-technical ecosystem of www.colabo.space, relies on tools helping in collaboration between participants or in matching the most relevant articles with artists' interests, and on tools that are helping in unleashing creative leaps and extracting and sharing the essence of news articles or artists' style.
We see benefits for journalist, through provoking long creative leaps, helping them to see facts from a different viewpoint, to see creative/dramatic/emotional details, and through improving collaboration among journalists.
It was fascinating to see, when put in the right atmosphere, in an artistic environment (even through a socio-IT ecosystem), and provided with a customized inspiration, how poets can create a poem of a good quality in a short time. Under these requirements poets created poetry that is deeper connected to their initial emotions, coming from their guts, and more inviting for further artistic collaboration.
There is a lot of inspiration for next steps. This was just a demo of the CoLaboArthon. At the next Mediapolygon our goal is to integrate full fledged Colaboarthon with the www.colabo.space ecosystem, with www.metaversity.ru and Mediapolygon solutions like www.les.media. Through this and creation of an online ad-hoc "journalistic market" of ideas and assets, we're looking for a deeper connection "on the field". We started correspondence with academic journalists regarding the research in this domain. All these reflections and insights are giving us new lessons to present to journalists and artists.
We have just connected Mediapolygon - Journalistic marathon with Belgrade Reader - Literary Marathon ( Serbia) where news and art from Tyumen are going to be retold. At ReMaking Tesla (www.tesla2017.com) we're going to present the collaboration that happened in Tyumen and extend our research by organizing a new CoLaboArthon between scientists and artists.
We are inviting artists and media practitioners, interested to be part of the CoLaboArthon events, to join us at chaos.ngo@gmail.com